Ourimbah MTB Park
There are plenty of trails to suit all riders from the family loop for those just getting started to the XC and gravity trails that are used in our National Cup events. In all there are over 18kms of trails to explore.
The Ourimbah MTB Park is managed by the Central Coast MTB Club under a Forest Permit issued by the Forestry Corporation of NSW.
It is 100% community funded and free to use to all.
Please be aware of regular events that are advertised on the event calendar.
Please park at the trail head and respect the signage onsite.
If you need directions just enter Central Coast Mountain Bike Club and Google Maps will take you straight there.
Be sure to look out for the local wildlife.
Ourimbah Mountain Bike Park Safety
Mountain biking is dangerous and can lead to serious injury and even death.
Download and use the Trail Forks app or park map and stay on suitable trails.
It is your responsibility to educate yourself on trail safety and etiquette.
It is your responsibility to make yourself aware that the park caters to novice and elite riders & not every section of the park is suitable for you or your child to ride.
DO NOT push, walk or ride up a gravity (descending) trail
DO NOT stop where you obstruct a trail. Keep people & bikes clear at all times
No pedestrians on MTB trails
You risk serious injury or death by lacking awareness or being ignorant
If a park user suggests your activity is not safe, then listen to them for your own well being
Green trails are for novice and new riders especially children
Blue trails are for intermediate riders with developing skills who should have suitable bikes and protection equipment
Black trails are for advanced riders ONLY
Blue and black trails include technical sections and jumps that are ridden at high speed and are not suited to novice or new riders. Keep these trails clear at all times.
All trails are one way with the arrows indicating direction. Do not ride in the opposite direction. (Only two short sections are two way both indicated with signage)
Riders ahead of you have right of way. Pass only when it safe to do so when this poses no risk to either rider.
Observe and obey all posted signs and warnings
Keep off closed trails and closed areas
Do not create extra lines on existing trails
There are elements of risk that common sense and personal awareness can help reduce.
Treat the trails, park and riders with respect and enjoy your mountain biking experience.
Commercial Activity & Organised Events at Ourimbah MTB Park
This includes: MTB coaching, tours, races, demo days, school groups, photography services, food services and brand promotion.
Any commercial activity or organised events using the Ourimbah MTB Park must obtain formal permission from both CCMTB and Forestry Corporation of NSW.
The Ourimbah MTB Park is managed by the Central Coast MTB Club (CCMTB) under a Forest Permit issued by the Forestry Corporation of NSW. The success of this arrangement relies on countless hours of VOLUNTEER time for trail construction, maintenance and general administration.
This is a simple communication that covers your activity insurance wise and requests a nomimal contribution towards the maintenance of this unique facility. The park is 100% community funded and requests your support for this unique location.
Please contact CCMTB and Forestry Corporation for further information.
Bike Racks
Travel safely to the park with all your bikes
Check out the safety and auxillary plate requirements.
There is quite a bit of detail to be fully compliant, worth reading even if you think you are already doing the right thing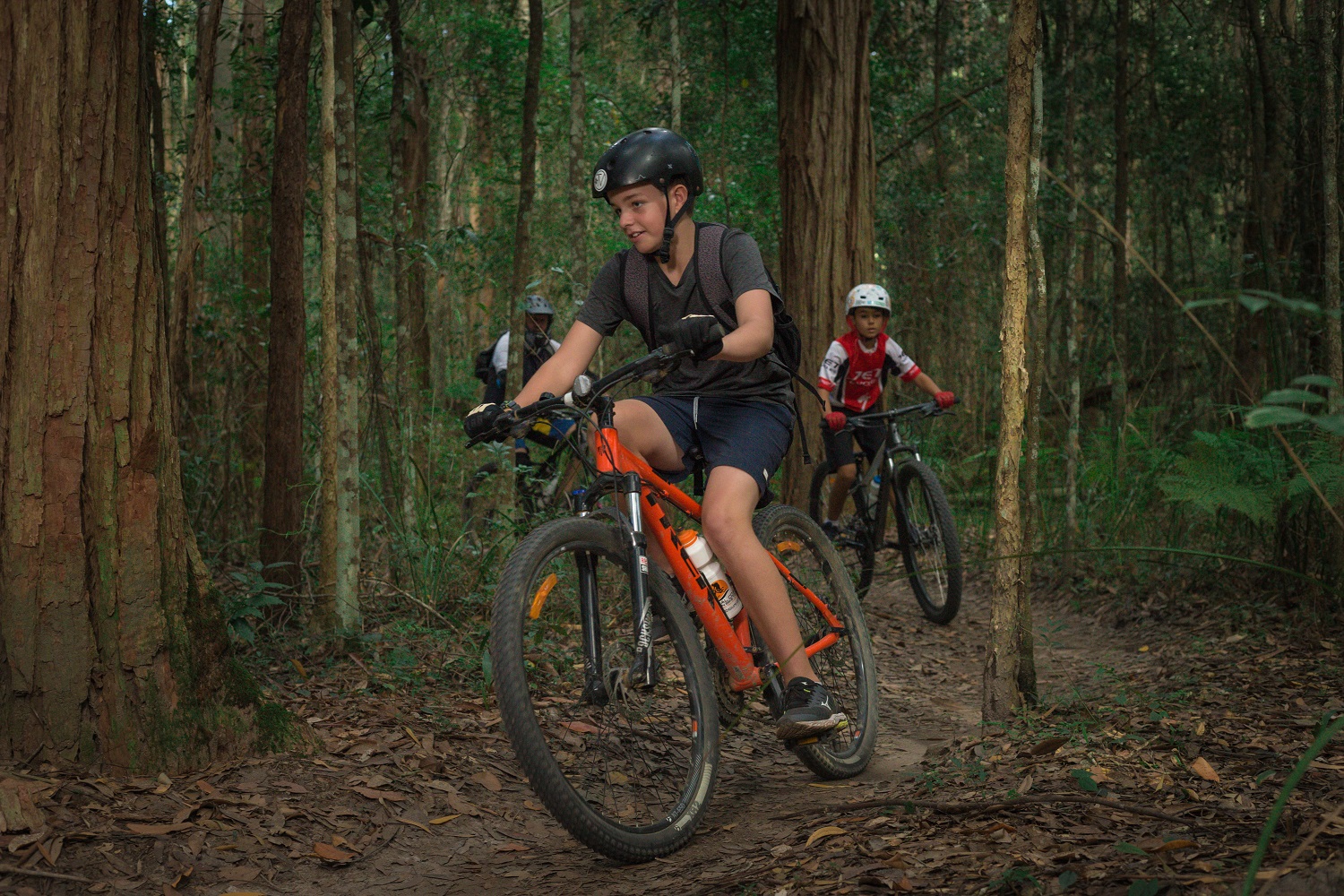 Important Stuff
Lead by example to keep the park enjoyable for all
Think Neighbourly
Do not park at the bottom of Red Hill Rd (typical shuttle pick up point). 
Shuttle Pick Up
Commercial or self shuttle pick up is at the junction of Red Hill Rd & Potters Gully Rd
Keep Out
Do not drive in (Potters Gully Rd) to pick up riders. 
Shuttle drop off only
Left hand turn round about.  Do not park at the shuttle drop off area. Self shuttle area is sign posted.
Keep Tracks Clear
Keep tracks clear at all times.
If you need to stop stand to the side of the track